#8 Lord of the Flies – William Golding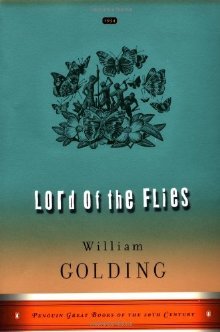 Published: 1954
Reasons For Being Banned/Challenged: Challenged at the Owen, NC High School (1981) because the book is "demoralizing inasmuch as it implies that man is little more than an animal."
My Rating: 1 Powerful Conch Shell
Hello dear readers.  It's been much too long since our last Banned Book Chat.  I wish I had a good enough excuse as to why I haven't written anything recently (moving back to the United States into my parents' house, or looking for a new job, or anything justifiable) other than the fact that I didn't really like Lord of the Flies but I don't.  I just really didn't like Lord of the Flies.
Flipping through it, I thought it should be easy.  Barely 200 pages, 12 chapters, and a fat kid gets killed.  How long of a read would it be?  Long enough, apparently.  I realized that if I know someone is going to be killed before reading a book, I want instant gratification.  Everyone who hasn't read Lord of the Flies like I didn't, basically know two things about it: kids are on a desert island, and Piggy gets offed because he sucks.
I knew something was wrong with me when I read Piggy's complaining and was like, You're right, Piggy.  These other kids are little assholes.  From page one, I was sympathizing with the annoyingly useless kid on the island.  He couldn't collect firewood, or help hunt.  But he was smart, rational, and had glasses for fire.  I'm sorry, but I feel like for any tribe, the one who makes fire IS THE MOST IMPORTANT.  Everyone should have been kissing Piggy's fat ass instead of teasing him.  Bunch of jerks.
Lord of the Flies was basically the English children's version of Survivor without Jeff Probst riding a skidoo at the finale from Borneo (or wherever they're Survivor-ing from) to New York City with the vase of winning votes.  It may have been nicer if the kids were just like, "Piggy, the tribe has spoken… you suck" and kicked him off instead of smashing him to oblivion.
Of course, the two characters I did like were Simon and Piggy.  I am still grieving over Simon and never want to hear anyone chant, Kill the pig! Cut his throat! Kill the pig! Bash him in! ever in my entire life.  And reading this book was like one giant cliffhanger for me.  I was turning pages carefully, waiting for the moment to come where Jack — the ginger from hell — would just murder poor, fat, smart Piggy.
Only to find out that it isn't even Jack who kills him!  Fucking Roger hides his psychotic tendencies the entire novel until Jack gives the okay to become savages and he just goes bananas.  Sticking sharp sticks up live pigs' rectums, killing Piggy with giant boulders, and hunting down Ralph with the intention to cut his head and offer it to the beast of the island as a sacrifice.  Holy lord, this kid is a maniac.
Even better, whenever that conch shell was mentioned, I immediately thought of that episode of SpongeBob Squarepants where he and Patrick start worshiping this magic conch shell that they use to tell them what to do.  And when they are abandoned somewhere, the conch shell tells them to do nothing… so they sit there, driving Squidward insane.
What really bummed me out about Lord of the Flies was how both nothing happened, and everything happened all too soon.  The first eight chapters are of these English boys trying to survive on a beautiful island, electing Ralph as chief, and doing whatever they can to survive.  Jack was being a bit of a spoiled brat most of the time, but then all of a sudden everything shifts.
The last four chapters try to throw in all the chaos with Jack Merridew (best last name ever, by the way) breaking away and taking all the others with him.  And then IT happens.  Those savage little brats kill Simon.  Poor Simon!  He was the best thing on that crappy island.  Although he did begin tweaking out, walking alone in the jungle at night, and having hallucinating seizures.  But other than those issues, he was the best one!  So he had to be killed.  Way to Game of Thrones me, Golding.  Killing the TWO characters I liked and leaving those shit kids alive and well.
It also just ended so abruptly.  Right when things get good, with the kids setting the entire forest on fire, beginning the man hunt for Ralph, Piggy finally getting bowled off a cliff, and complete chaos breaking loose, a military ship sees the smoke and comes to rescue the boys.
Of course, the adults think the kids are just playing games, unknowing of how savage they have become.  And when one asks if anyone has died as a joke, Ralph is like, "Yeah, asshole.  Two of my friends.  But don't worry, their bodies got swept into the ocean."  Even better is when he asks who is in charge and Ralph steps up saying, "I AM," while Jack Merridew shrivels into himself and realizes how he is weak.
And then Ralph cries from sadness, causing the other boys to cry, causing the military man to turn away, because of the awkwardness of the situation THE END.
Seriously, that is how it ends.  THAT IS HOW IT ENDS.
Ralph wept for the end of innocence, the darkness of man's heart, and the fall through the air of the true, wise friend called Piggy.
Want to read along with me?
Check out the Banned Books Challenge page to see my progress!