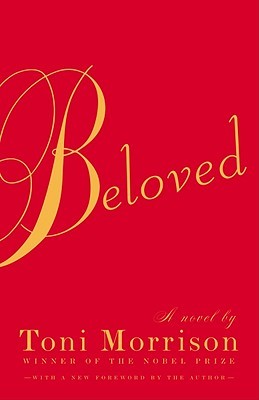 #7 Beloved – Toni Morrison
Published: 1988
Reasons For Being Banned/Challenged: Challenged at the St. John's county Schools in St. Augustine, Florida (1995) and by a member of the Madawaska, Maine School Committee (1997) because of the book's language.
My Rating: The Haunting at 124
You can pretty much tell how invested I am in a book by how quickly I can write a blog post about it.  And Beloved had all the ingredients towards being an awesome read: murder, haunted houses with ghost babies, and … I guess that's it.  I should also warn you that there are going to be a lot of Supernatural gifs within this post so yeah, get ready for that.
With many of the books on my Challenged List, I had no real knowledge of what the books are about.  After giving up 2% into Ulysses, I thought Beloved would be the jumpstart I needed in my reading.  It sounded interesting enough with its post-slavery setting, mostly female cast, and ghosts(!).  But I was wrong.  It took me a month to read this measly 300-pager.  I was so not interested in this book that in the month I tried to read this, I was able to read four other books while ignoring Sethe, Denver, Paul D, and Beloved's stories.
So where did I go wrong?  Why was I so dissuaded from this novel?  I will say that Morrison started off strong.  Within the first paragraph, no, the first sentence, I was interested:  "124 was spiteful.  Full of a baby's venom."  I was like, "Oh shit, this is going to be so good!"  I was giddy on the train, wiggling in my seat, waiting for some more ghost baby hauntings.
But then things shifted.  We went from ghost baby fingerprints in flour to Sethe crying over the sink, going on about having a tree on her back.  And I was lost.  These timeline jumps in the narratives, combined with the stream of consciousness narration had me so confused, I had to retrace a lot of my steps to figure out where I was supposed to be.
I would be with Sethe, as she talks about how they stole their milk from her (and that was something that took me a long time to understand) and then all of a sudden, we were inside Paul D's head, as he came around her and cupped her breasts in his hands.  And then we would be twenty years in the past, talking about Sixo's girlfriend who didn't have a name, but was called thirty-mile-girl.  And this confusion is all in the first few pages.
Reading Beloved was like watching Memento.  There was the same story being told on two different planes.  The past being the black and white scenes, the present being the colored ones.  But with Beloved, there was no way in telling when you were reading a scene from the past, or  the future until you were a couple paragraphs in and you were thinking, Wait, what were we just talking about three sentences ago?  I said that a lot.
And poor Paul D.  He just wanted what's best for both Sethe and Denver.  But instead he got Beloved banging on his door, asking for the sex.  And I guess I should clarify what is all happening within this novel.  Sethe is being haunted by the ghost of her two-year-old daughter after she murdered her.  Sethe — as well as many of the other characters — were born and raised into slavery, and eventually fled.  But when Sethe made it to freedom, her slaveowner tracked her down, and tried to bring her back — thanks the to Fugitive Slave Act.  But Sethe believed it was better for her children to be dead than slaves, and attempted to kill all four of them.
But she only succeeded in killing her two-year-old baby, which she called Beloved on her gravestone.  The baby's ghost then begins haunting the house at 124, causing both of Sethe's sons to run away.  Which, honestly, I am not surprised to hear.  I would have thrown deuces and peaced out of there a looooong time ago.  Once furniture is thrown at me, and baby giggling sounds are heard in the hallways of my babyless home, I am Audi 5000.
All Sethe has is Denver, her youngest daughter who is at this point eighteen, but completely alone after the town alienates their family.  But after Paul D comes, he gets rid of the ghost spirit by yelling at it, Sethe asks him to stay, Denver becomes jealous, and a random girl lands on their doorstep with clean clothes, no recollection of how she got here, and goes by the name Beloved.  And nobody is like, Wait a minute here, your name is Beloved like my dead daughter/sister?  And you're, what?  Twenty years old?  The same age my daughter/sister would be now if she was alive?  Something is pretty fishy here.
Nope.  They're like, Come on in!  Pull up a chair!
Denver seems to be the only one like, "Dude, this is my dead sister."  Sethe could care less, and Paul D is like, Hell no, get this creep out of here.  And Beloved is obsessed with Sethe.  So she does what is best to get rid of Paul D: she creeps him out and forces him to have sex with her …?  That works…?
But what really gets Paul D out of there is when Stamp Paid, the man who brought Sethe across the river to freedom, tells him the story of Sethe killing her baby.  That makes him run out of there faster than shit from a goose.
With just Beloved, Sethe, and Denver living at 124, things start getting a bit… weird.  Beloved and Sethe become obsessed with each other — Beloved enjoys reminding Sethe how she murdered her, Sethe reminding Beloved how she did it out of love.  Beloved says jump, Sethe asks how high, and Beloved yells at her for not jumping high enough.  Sethe is so dedicated to not leaving Beloved's side that she lost her job because she just stopped going.
Poor Denver is like, What the hell, guys?  I'm here too!  So she begins leaving her house and talking with others in her black community, asking for work, and getting donations of food from locals.  I've gotta hand it to Denver.  She saw how awful things had become with Beloved and Sethe so she decided to change it.  She left her home for the first time since she was eight, and reached out to her community.
And once the town discovers why Denver needs help — i.e., her dead sister's ghost is parasiting her mother to death — they ban together to exorcize Beloved out of the house.  But Mr. Bodwin, a white man who comes to pick up Denver for a job, comes at the same time.  And when he pulls up at the same time the townswomen come to exorcize Beloved, Sethe and Beloved — who is now naked and fat, maybe even pregnant? — walk out onto the porch.
When Sethe sees a white man coming up to get Denver, she freaks out, and tries to attack him with an ice pick.  But one of the townswomen punched Sethe in the jaw to stop her, and knocked her out cold.  And right then, Beloved was gone.
The novel ends with Sethe sick and wanting to die because Beloved is gone, Denver is a working girl, doing what she can to make some money for herself and her mother, and Paul D comes back to Sethe, telling her that he loves her and wants to be with her.
And everyone in town has forgotten all about Beloved.
By and by all trace is gone, and what is forgotten is not only the footprints but the water too and what it is down there.  The rest is weather.  Not the breath of the disremembered and unaccounted for, but wind in the eaves, or spring ice thawing too quickly.  Just weather.  Certainly no clamor for a kiss.

Beloved.
Want to read along with me?
Check out the Banned Books Challenge page to see my progress!